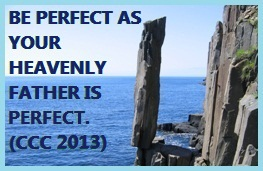 God reveals Himself as three distinct persons performing distinct functions and the functioning of the Blessed Trinity is the model of perfection:
God the Father wills based on truth, rightly the first time every time and controls everything for good.
God the Holy Spirit is the custodian of God's power, discerning truth and conveying truth and power to the Father, the Son and also to others according to the Father's Will.
God the Son obediently does (executes) the Father's Will be it creation, redemption or judgment, availing all necessary power from the Holy Spirit. He is the Father's Love personified and His Heart, Body and Right hand.
How do we perform our tasks? The simplest way to decipher any pattern in the way we do things is to split tasks into bits and look at them threadbare. For this, let us consider some typical tasks from our daily life:
Bake plum cakes – buy dry fruits, flour, eggs, sugar, rum etc., in right proportion; cut dry fruits and soak in rum for 45 days; prepare cake mix; taste and fill moulds; bake in the oven; cool, pack and store.
Buy a house – consult brokers or friends; search ads; advertise need and look up responses; visit and inspect houses for sale; negotiate sale; apply and avail loan; close the deal and register property.
Every task consists of several smaller tasks and they form a tree like network. Take a look at each task and recognise the common steps followed by all of us to perform any task, be it small or big. For example, to buy dry fruits, we need to know about the shops that sell them and the prevailing prices; we evaluate and decide which shop to buy from and then we go and buy it. Similarly we enquire and know about resourceful friends and brokers; after consulting some we decide on one and go ahead with the choice.

We can recognise the basic human way followed in every task performed―decide based on advice (information) and then implement decision. Every meaningful occupation is made up of tasks that involve discerning, deciding and then doing. The similarity to the Blessed Trinity is so evident and only goes to prove that we bear the image and likeness of God.

Now, despite being potential gods having God's own image and likeness, we do not function in harmony and are often at loggerheads with each other and also within ourselves. This is because of the distortion or defilement wrought by original sin. Recall our Lord's remark in Gethsemane: "The spirit is willing, but the body (heart) is weak." (NIV Mt 26:41b)

While we may lament our imperfection we must rejoice in the hope offered by God and bow in gratitude that we were considered worthy of knowing Jesus and being attracted to His ways and remember His loudest prayer to the Father: "I pray also for those who will believe in me through their message, that all of them may be one, Father, just as you are in me and I am in you. May they also be in us so that the world may believe that you have sent me. I have given them the glory that you gave me, that they may be one as we are one— I in them and you in me—so that they may be brought to complete unity to let the world know that you sent me and have loved them even as you have loved me". (NIV Jn 17:20b-23)

We know and believe that the Blessed Trinity is the model of perfection; we also know that our Lord gave us this command: "Be perfect, therefore, as your heavenly Father is perfect" (NIV Mt 5:48). Can we not approach perfection by orienting our basic human way towards the way the Blessed Trinity functions? The most striking feature that fills us with wonder and awe is that, the three agree as one (WEB 1Jn 5:8b). This describes everything that is necessary for perfection– love, humility, mutual trust, selflessness,..

A simple portrayal of the perfected individual, based on the glimpse just gained of the Blessed Trinity's unfathomable divine perfection and a fair idea of our own undeniable imperfection:
A mind that does not waver or consult many advisors but fully trusts the spirit's counsel, whose decisions follow the supreme will of God and does not worry but fully trusts the heart's commitment
A spirit that is led by the Spirit of Truth and hence incapable of deceit
A mortified heart stripped of all sensual cravings, obediently doing what the mind decides; most dependable, steadfast in adversity, loves only goodness and always craving for the Author of goodness
The perfect victory is to triumph over self. For he who holds himself in such subjection that sensuality obeys reason and reason obeys Me in all matters, is truly his own conqueror and master of the world. (IoC III:53)