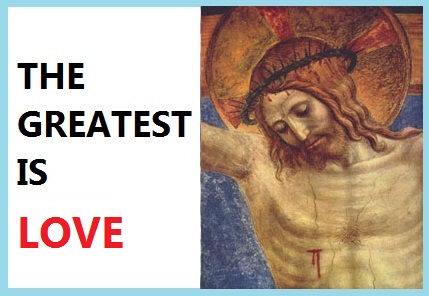 When God revealed the Law through Moses (see Deu 5) He did not leave him clueless but also revealed how to fulfill the Law: Love the Lord your God with all your heart and with all your soul and with all your strength (NIV Deu 6:5). Law is a standard set for achieving through the means called love which is the provider of enabling grace. This love (agape) is an absolutely selfless variety of love by which we love God for God's sake and also love those in need as much as ourselves, again for His sake.

The Parable of the Good Samaritan is a story that our Lord chose in response to a law expert's query: "And who is my neighbor?" (NIV Lk 10:29b). It is one of the most powerful in terms of drawing complete rapt attention from listeners. He had probably waited for the right opportunity to deliver His greatest lesson―the love command, and when it came He did the best possible job of it. True to His own teaching He proved to be most prepared for doing His Father's work at any time. I consider this parable 'the jewel of the Good News' and these are some beautiful truths to which this parable opened my mind:
We cannot pretend to love God whom we don't see; we can only love His ways, teachings and commands.
The Levite and the Priest represent the people who claim to strictly keep the Law.
They fail to fulfill the righteous requirements of the Law because they neglect the key―Love.
The Samaritan represents those who broke the Law by indulging in idol worship and were excommunicated from Judaism.
Despite breaking the Law, the Samaritan is able to fulfill its righteous requirements because he has Love.
Anyone who is in need of our loving kindness is our neighbour.
Loving our neighbour is identical to loving God, because the unseen God invariably reveals Himself in the form of a needy neighbour.
The written code on tablet is mere letter and simply venerating it is not true worship and cannot fulfill any righteous requirement.
Centuries before receiving the Law, we were taught by God to love our neighbour when He told Noah: "I will demand an account of every man's life from his fellow men". (JB Gen 9:5c).
Like the Samaritan: "Share with God's people who are in need. Practice hospitality; offer your bodies as a living sacrifice, holy and pleasing to God―this is your true and proper worship" (NIV Rom 12:13, 1bc).
'I tell you the truth, whatever you did for one of the least of my brothers, you did for me.' (NIV Mt 25:40bcd)
It is important to know the difference between 'keeping the Law' and 'fulfilling the righteous requirements of the Law'. Consider a worldly example like 'Prevention of Terrorism Act' (POTA). Keeping this Law means not resorting to acts of terror for any reason. The penal provisions and law enforcement agencies may ensure that the law is kept. However, there is no provision to eliminate the root cause of terror―hatred. Fulfilling the righteous requirements is something much higher. It is the rooting out of all evil from our hearts by spreading love, so that there is nothing like terror.

This promise which God made to Abraham: "...; and all peoples on earth will be blessed through you" (NIV Gen 12:3b), attains fulfilment ONLY in those who have love as no other virtue can make us a blessing to others. In short, there are three things that last: faith, hope and love; and the greatest of these is love (JB 1Cor 13:13). Mahatma Gandhi, Martin Luther King Jr., Salman Taseer and Kailash Satyarthi are all shining examples of selfless love. Thus, they are truly children of Abraham who remind us of John the Baptist's warning: And do not think you can say to yourselves, 'We have Abraham as our father.' I tell you that out of these stones God can raise up children for Abraham (NIV Matt 3:9). Abraham's Call is as much ours and we are all called to be his true children who are:
NEITHER fanatics in faith
NOR prisoners of hope
BUT shining examples of selfless love.